Knocking on Winter's Door, Berry
JerryBerry Winter Limited Edition
This year, greet winter with the Winter Limited Edition of JerryBerry by your side.
*
Height : 25 cm tall
Head Type : Berry
Eye Color : Ice Blue
Wig : 7-8 inch (High quality mohair thread) blond medium length
Outfit : Dress, sky-blue stockings, woolen coat with three-quarter lenght sleeves (pink), golden ribbon, fur leg warmers, fur hat, ivory loafers, golden bell
ETC : Special Makeup, box, 4 pairs of hand parts, special edition card
Make-up Design by Estebebe,
Manufactured by Estebebe Main Finisher Su-na, Louis,
We ensure that you will be satisfied with JerryBerry's quality.
*
All JerryBerry dolls are order-made.
Therefore, the manufacturing process will start after the payment is confirmed.
Please be advised that 10 business days ( 2 weeks ) after the payment is confirmed will be required to process this product.
*
Cancelling or changing the order is impossible after the payment is confirmed.
Please place your order after careful consideration.
*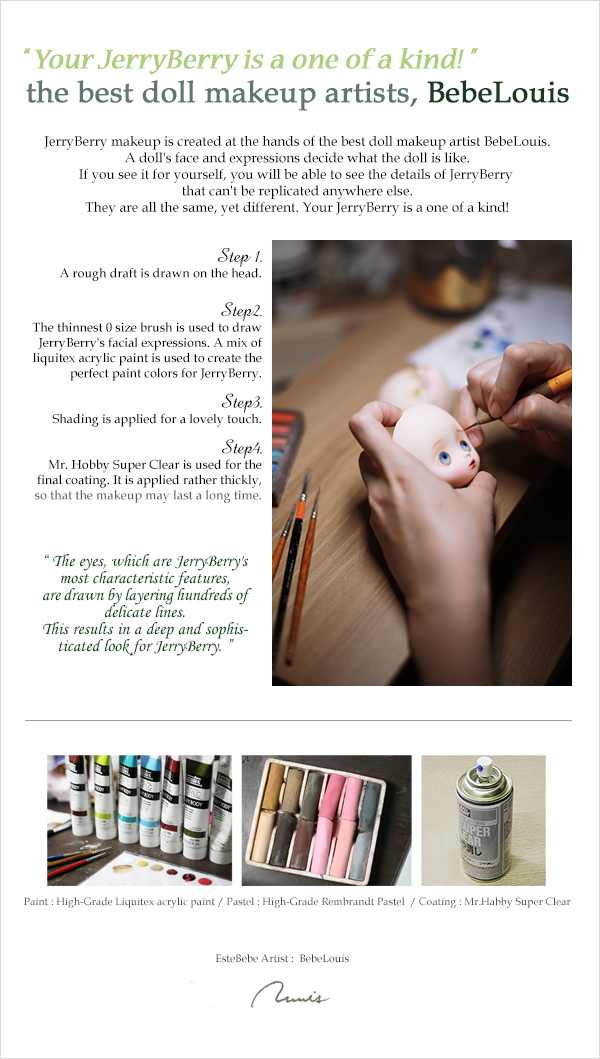 ○ Material of head part: resin
JerryBerry head parts are handmade by professionals.
High class resin doesn't easily change color.



○
Material of body parts: plastic jointed body

JerryBerry is made of OBITSU plastic jointed body parts, allowing for various poses.
The joints meld together naturally, and are firm so that the doll can stand easily.
Hand parts are made of rubber material to reduce the dangers of being damaged.
All parts are a uniform bright and clear color.
※ JerryBerry's makeup is hand-drawn, and thus may differ from doll to doll.
※ JerryBerry's wigs, clothes and shoes are all hand-made, and thus may differ.