Fall in Berry
2016 JerryBerry 19th Limited Edition
We would like to introduce you our 19th limited edition, " Fall in Berry "
Special outfits and flower crown for is a result of collaboration project with Aster (outfits) and Planetarium (flower crown).
Berry's overall atmosphere is carefully designed for matching Aster's dress and Planetarium's flower crown.
We hope our fans enjoy this collaboration.
>> Special Offer <<
Height : 25 cm tall
Head Type : Berry
Eye Color : Mixed with green and light blue
Finish : Matt Finish + Glossy eyes and lips

Wig : 7-8 inch silver grey wave short cut
Outfits (by Aster) : Stripe Natural Dress with laces, Blue Apron, Cream socks
ETC : Flower Crown and bouquet (by Planetarium), Camel vintage boots.
Special Makeup, JB box, special edition card.
*
Make-up Design & Manufactured by BEBELOUIS (=Estebebe Main Artist Louis)
We ensure that you will be satisfied with JerryBerry's quality.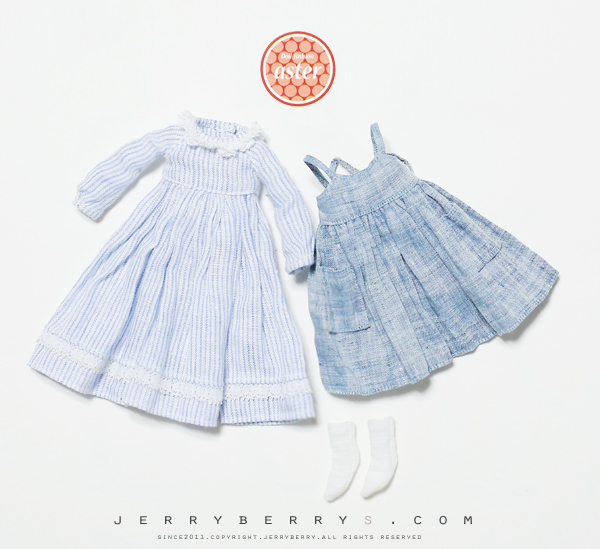 * Outfits - by Aster's Craft Shop
(http://blog.naver.com/razldazl71 )
Aster is well known with her delicate skill for making small realistic dresses and accessories
for 1/6 size dolls since early 2000s.
She has a history of making dresses for 2013 summer JerryBerry limited edition, " Summer Daze ".
It was interesting experience to do collaboration work with her again.
Peasant look dress, Apron and socks.
Striped linen dress is decorated with rich pleats and vintage antique laces.
Blue linen apron has two square pockets. And back closing ribbon(made with same fabric) is detaildely located.
And off-white socks add relaxed atmosphere to whole peasant look.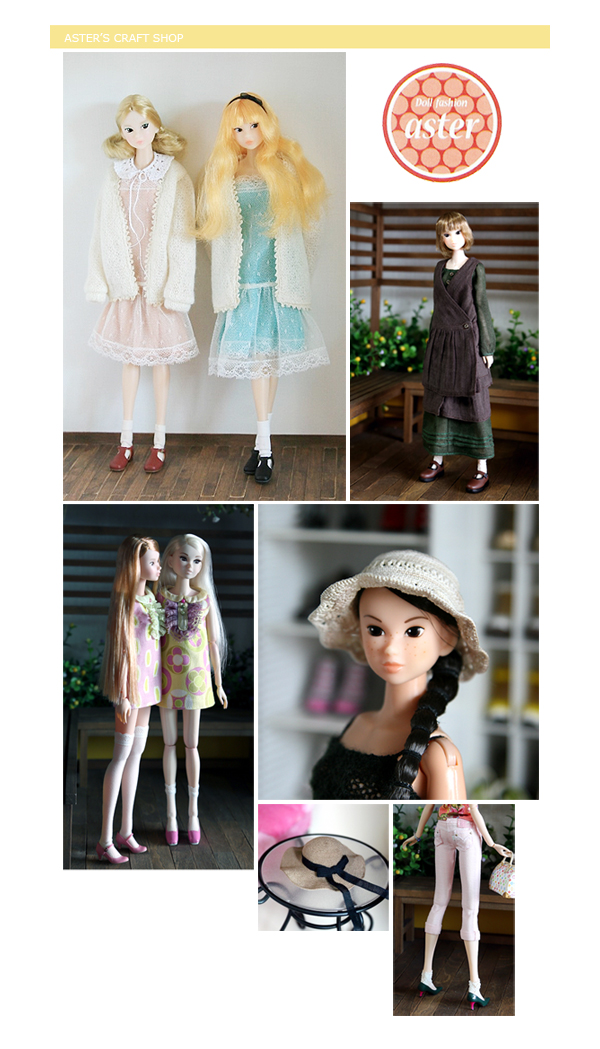 *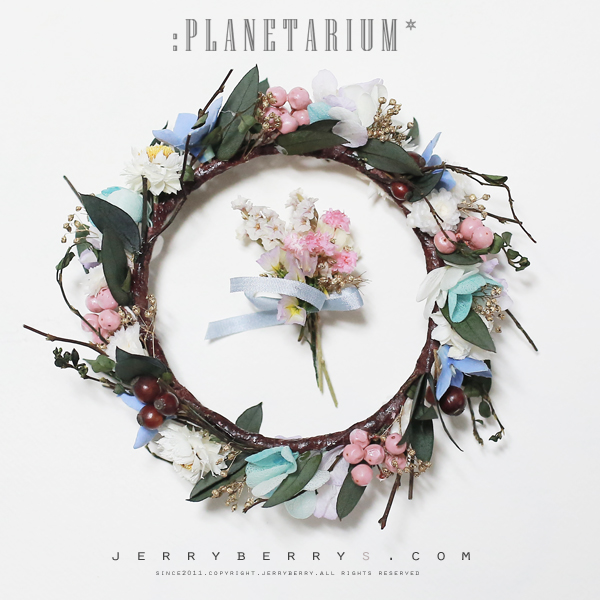 * Flower Crown & Bouquet - by Planetarium
( http://blog.naver.com/michu11 / http://twitter.com/planetarium_01 )
Since 2013, PLANETARIUM has been making diverse flower crowns and flower-related accessories for various dolls.
Michu, who is founder of PLANETARIUM always use material resolutely and has great sense of color.
We're really happy to do collaboration work with her at this time.
Special flower crown and bouquet are exquisitely made with preserved flowers.
Flower crown which is decorated with
various flowers and silk ribbon finished bouquet make innocent atmosphere for Berry.
Flower crown made with -
Eucalyptus, Wire vine , White Ammobium
Rose hip, Baby Pink Pepper Berry, White Helicrysum, Golden Mini baby's breath,
Gradation Blue Hydrangea, Lavender Hydrangea, Blue Bouvardia (artificial)
Bouquet made with -
Sinensis, Purple Statice, Off-white Statice, Pink Baby's Breath, Golden Mini Baby's Breath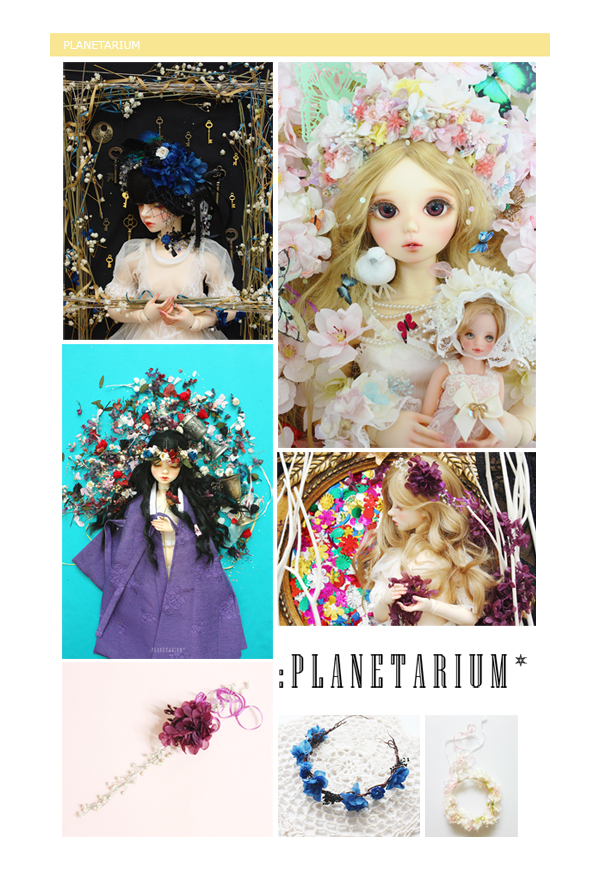 >> How to Order <<
"Fall in Berry" will be produced only for 50 fans.
(will be chosen by sequence below A, B, C.)
A. If you want to order, you have to send us ( jerryberrys@naver.com ) e-mail before October 18th 14:00 GMT+9
**It's not by order of arrival
------------------------------- Entry form (in English only ) -------------------------------
1. Name :
2. Address :
3. Postal code :
4. Phone number :
5. Body type (JB Body or Obitsu Body) :
-----------------------------------------------------------------------------------------------------
B. Then, 50 fans will be randomly chosen by program.
C. We'll announce(will send personal e-mail) 50 fans after October 19th.
>> Important Rules <<
1. Website order is unavailable at this limited edition.
2. After order, changing the receiver's address is not possible.
3. Each E-mail address(and also each person) will have a one entry.
4. Many entries with same address will not be accepted. (we have to cancel and refund if we find.)
5. Maximum available quantity of one person is limited for only one.
6. Combined shipping with other Basic JBs is not possible.
7. If payment is not confirmed in 48 hours, it will automatically canceled
>> Price Information <<
- If you choose JB Body : $452.60
- If you choose Obitsu Body : $397.60 (included with 4 pairs of hand parts)
(We took the pictures with JB body.)
(Shipping fee is not included.)
>> Care and handling for Flower Crown <<
- The Flower crown and Bouquet are made with
delicate preserved flowers and some of artificial flowers.
- PLEASE DO NOT eat.
- PLEASE DO NOT expose to direct sunlight.
- PLEASE DO NOT leave it on high temperature and high humidity.
Both may cause the color to fade or run.
(We recommend keep them in places with levels of humidity between 30-80 %.)
- PLEASE DO NOT water. They do not need water and water will damage them.
- PLEASE Keep away from children and pets.
- They need more careful handling than artificial flower.
(They are natural flowers that have been chemically processed
to maintain their fresh look and softness.)
*
Please be advised that 10~20 business days ( 2~4 weeks ) after the payment is confirmed will be required to process this product.
We ask for your patience.
*
Cancelling or changing the order is impossible after the payment is confirmed.
Please place your order after careful consideration.
○ Material of head part : resin
JerryBerry head parts are handmade by professionals. High class resin doesn't easily change color.
○ Material of body parts :
JB Body - Ball Jointed Resin Body.
We wanted to design the body which has natural body-line and adorable atmosphere.
And we thought the body must have a feeling of warmth while it goes well with JerryBerry's fairy-tale style face.
JB body can be best choice because its colour and material is same as JB heads.
** Very small dot or tiny bubble can be shown on the body. Please place your order after careful consideration.
Obitsu 21 Body - plastic jointed body
Obitsu plastic jointed body parts, allowing for various poses.
Hand parts are made of rubber material to reduce the dangers of being damaged.
All parts are a uniform bright and clear color.
*** Click this link to compare JB body and Obitsu Body ***
※ JerryBerry's makeup is hand-drawn, and thus may differ from doll to doll.
※ JerryBerry's wigs, clothes and shoes are all hand-made, and thus may differ.